Basics
A Closer Look at Player Pricing and the Events that Effect their Value
FIFA Market Trends
Players are expensive at the start of the game. Players are cheap at the end of the game. For those of us that have played Ultimate Team for the nearly 10 years it has been a game mode, that much is clear. And FIFA 19 was no exception.
FIFA 19 PS4 Market Index 100 (via FUTBIN)
The reason? A quick economics lesson on the principles of supply and demand will tell you. When FIFA releases in September, there are few cards on the market (low supply) compared to the high volume of players that want to play the game (high demand). Therefore, player prices are through the roof.
However, as time goes on more packs are opened. An increase in supply occurs. Where we had a low supply before, we now have a medium/high supply and medium/high demand.
Now May comes, along with it TOTS. The supply of cards on the market is at a peak, and demand for playing Ultimate Team is dwindling with the approaching summer and conclusion of any major FIFA events. Many FIFA players stop playing, and with that prices plummet to even further lows. Where we began on the left side of the graph, now we fall on the right.
---
FIFA Events
While this is how the FIFA market looks over the long-term, Ultimate Team events cause short-term deviations that present opportunities for investing. Knowing the events of the Ultimate Team calendar will help you to predict and take advantage of these changes in the FIFA market.
---
FIFA 20 Events (some dates tentative)
*check the FIFA Calendar for a full list of events*
September 18th – Web App Release
Rejoice! A new season of FIFA begins. One of the first ways you can access the game is through the web app. Through this, you will be able to buy/sell players, purchase packs, and receive daily rewards for logging in. NOTE: you will only be able to do use the web app if you have already set up an account in some previous FIFA.
In addition to the web app, a 10 hour EA Access period grants Xbox and, for the first time in FIFA 20, PS4 players the option to experience FIFA 20 in its entirety. For traders, the entirety of this trial should be devoted to Ultimate Team. There are a few ways that you can approach this.
First and foremost, sell all of the items in your catalog. Coins are in short supply at the beginning of FUT, and this is one of the easiest ways to stockpile them.
In addition, make sure to activate your coin boosts as these can earn you an extra 250-1000 coins per completed game. How you choose to play these games depends on your abilities as a FIFA player.
For more skilled players, draft is a great option. Yes, you have to spend 15,000 coins or FIFA points to play. However, the potential packs for winning a few games will more than cover your costs. In reality, if you win the draft mode you are looking at getting at least 50k and possibly much, much more. Offline draft mode is alternative if you would rather play AI instead.
---
September 24th – Early Access Release
For those who purchase the Ultimate or Champions version of FIFA 19, you will have a 3 day jump on everyone else to play the game. These early stages of the game are huge for establishing a coin base, so the sooner you can jump in the better.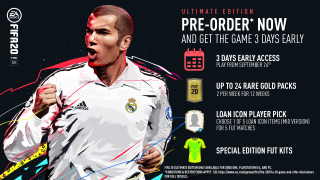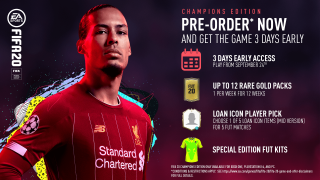 ---
September 27th – Full Release
When the game is fully released, the demand for players begins to increase dramatically. Therefore, prices increase as well. Be sure to invest your coins gained through the early access period in players – particularly OTW or TOTW 2 gold cards – before the full release to make profits. If FIFA 18 and 19 are any representation, the players reach their peak about 2 weeks after the release. For FIFA 20, this would mean the weekend of October 11th-13th.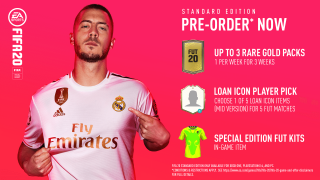 ---
October 18th – Halloween Scream
EA releases scream cards that are boosted over Halloween weekend. In FIFA 18, these cards were also upgraded during "spooky" times – or anytime there was a full moon.
---
November 22nd/25th – Black Friday/Cyber Monday
For the first time in the FIFA season, players have the opportunity to buy expensive packs valued at 50k, 100k, and 200k. For an investor, this weekend is Christmas come early.
All of these packs mean one thing: a drastic increase in supply, and consequently excellent opportunities for players to be bought for great prices.
In FIFA 19, the best looks for investment were high rated TOTW players that came from good nations and leagues (useful for SBCs). Look to buy them during lighting rounds via bid or snipe to get the best deals.
In FIFA 20, anticipate on investing in something similar – a high rated inform from a good league and nation that is near discard.
---
December 6th – Team of the Group Stage
An event that often catches players by surprise, be sure to prepare yourself for the Team of the Group Stage. This is the first time that an abundance of quality players are in packs, and as a result many packs are opened. Again, packs mean supply, and supply means the market takes a hit.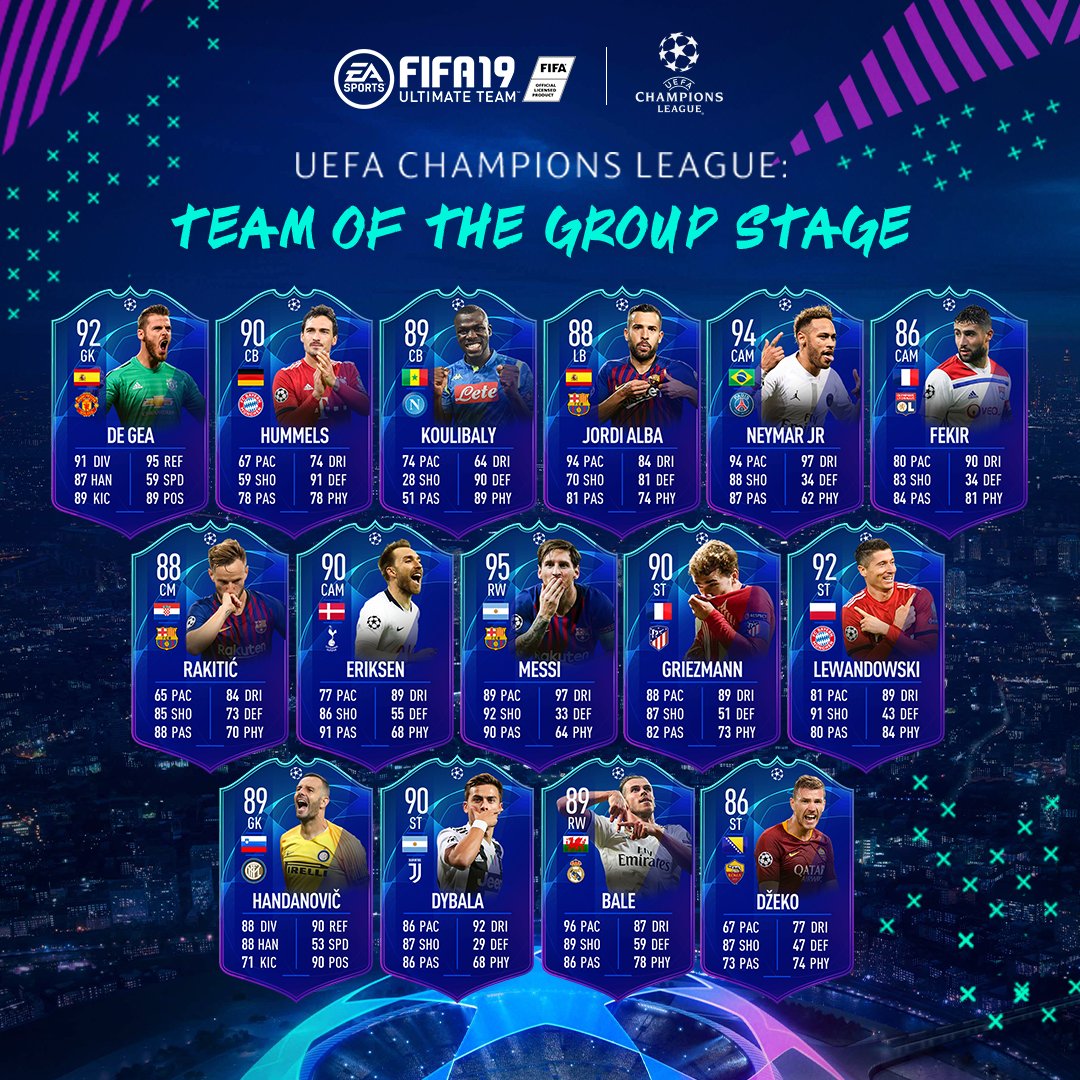 ---
December 13th – FUTMAS
Starting on the 13th, there will be daily SBC's to get 3 different players. Here is one SBC we saw on December 14th in FIFA 19 featuring Gomez.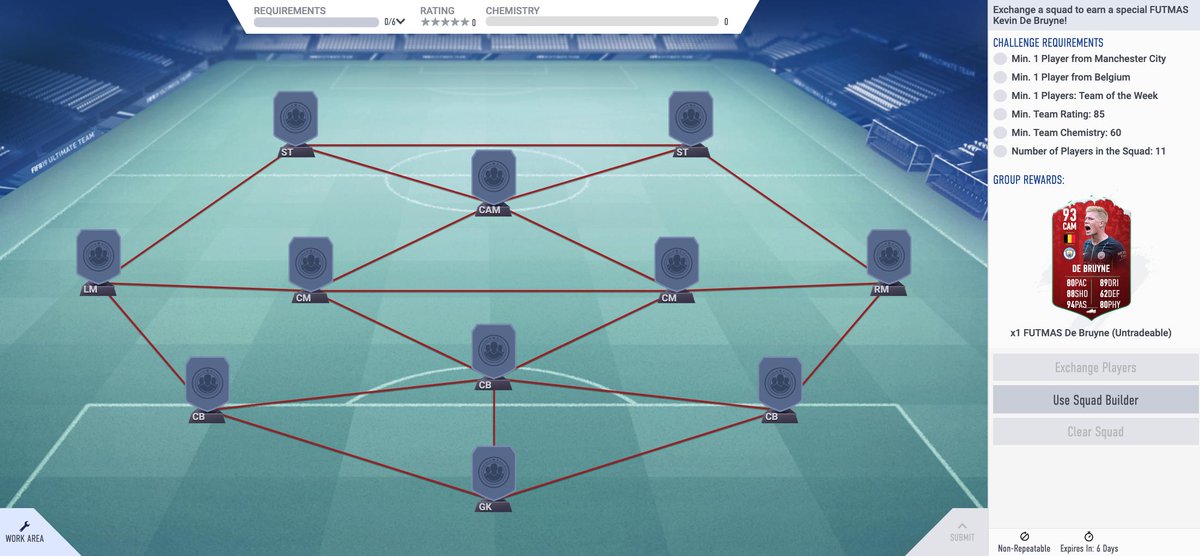 ---
January 6th – TOTY Release
The best players from the previous year are released in four phases: defenders, midfielders, attacks, and then the full squad. In FIFA 19, the attackers came out on Monday, midfielders on Tuesday, defenders on Wednesday, and the full squad on Friday. We will see if that trend continues for FIFA 20.
---
January 17th – Future Stars
A new promo that began in FIFA 19, this event is described on the EA website as follows:
"FUT Future Stars is our definitive list of breakout stars for 2019. This squad of wonderkids are on the cusp of breaking through into the football mainstream this season. In Future Stars we flash forward to what these youngsters could become if they fulfill their potential. A squad of 21 Future Stars will be released in packs, for a limited time, with supercharged stats to help them compete with today's FUT elite."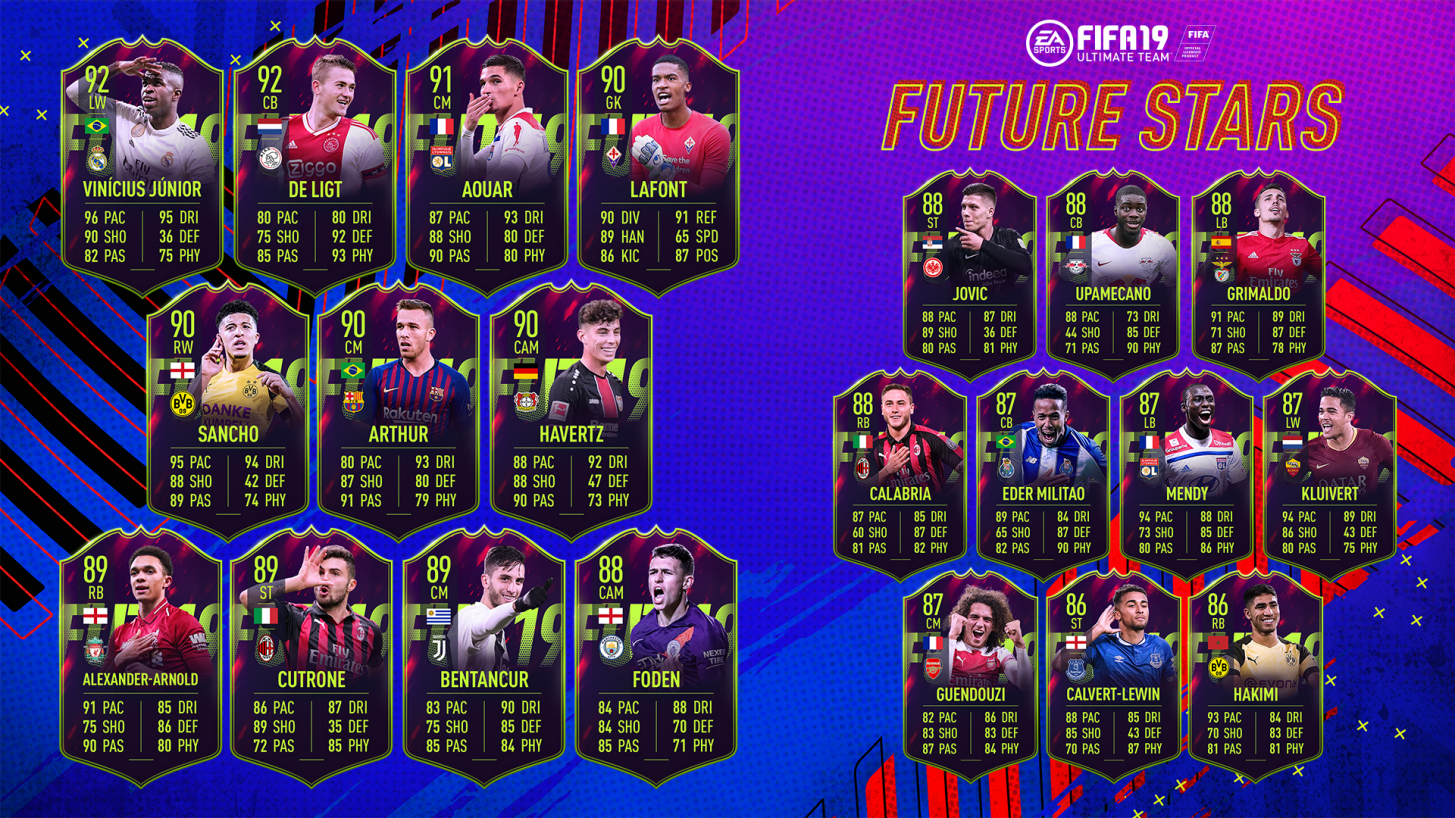 ---
January 31st – Headliners
Another fresh event that was debuted in FIFA 19, these upgrades were among the most OP players in the game for some time.
---
February 14th – Winter OTW/Upgrades
Along with the OTW winter squad, EA often releases SBCs that require OTW players. For this reason, it is a good idea to invest in Summer OTW players in anticipation of this event.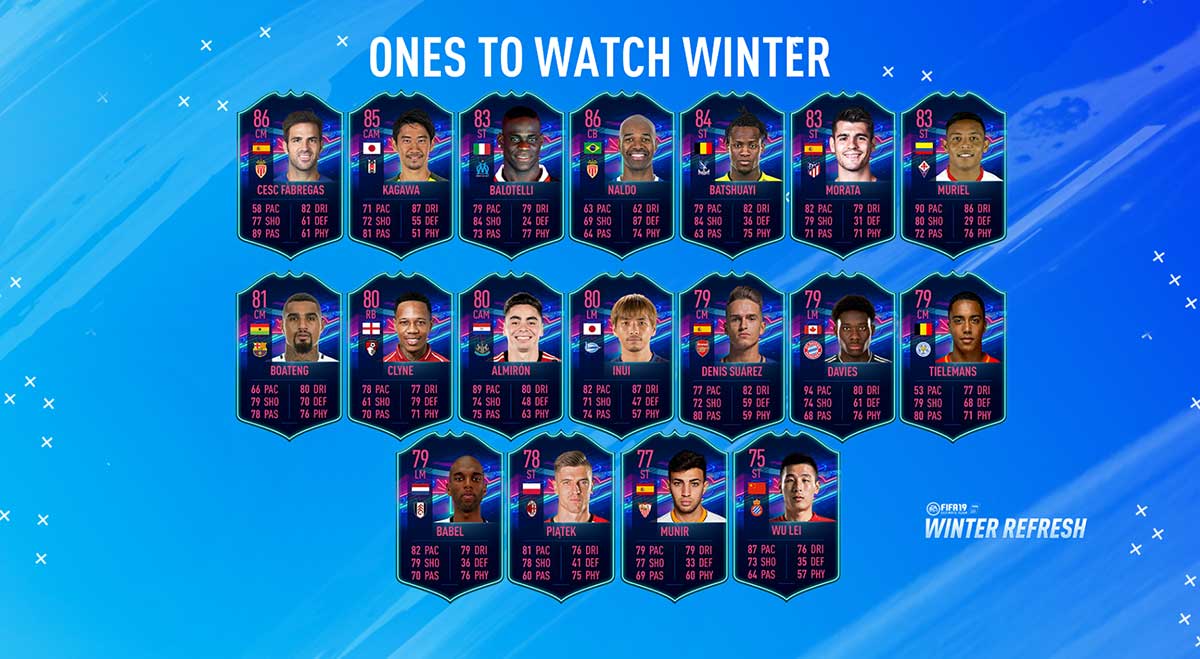 ---
March 6th – Carniball
FIFA executives must have made a point to create more content for FUT 19. Carniball is yet another promotion that was added last year.
"A total of 26 players will be selected to embody the play style of each of eight major Carnival countries: Brazil (Rio De Janeiro), France (Nice), Belgium (Binche), Italy (Venice), Argentina (Buenos Aires), USA (New Orleans), Spain (Cadiz) and Germany (Cologne). Each player will get a significant ratings upgrade to reflect their style of play."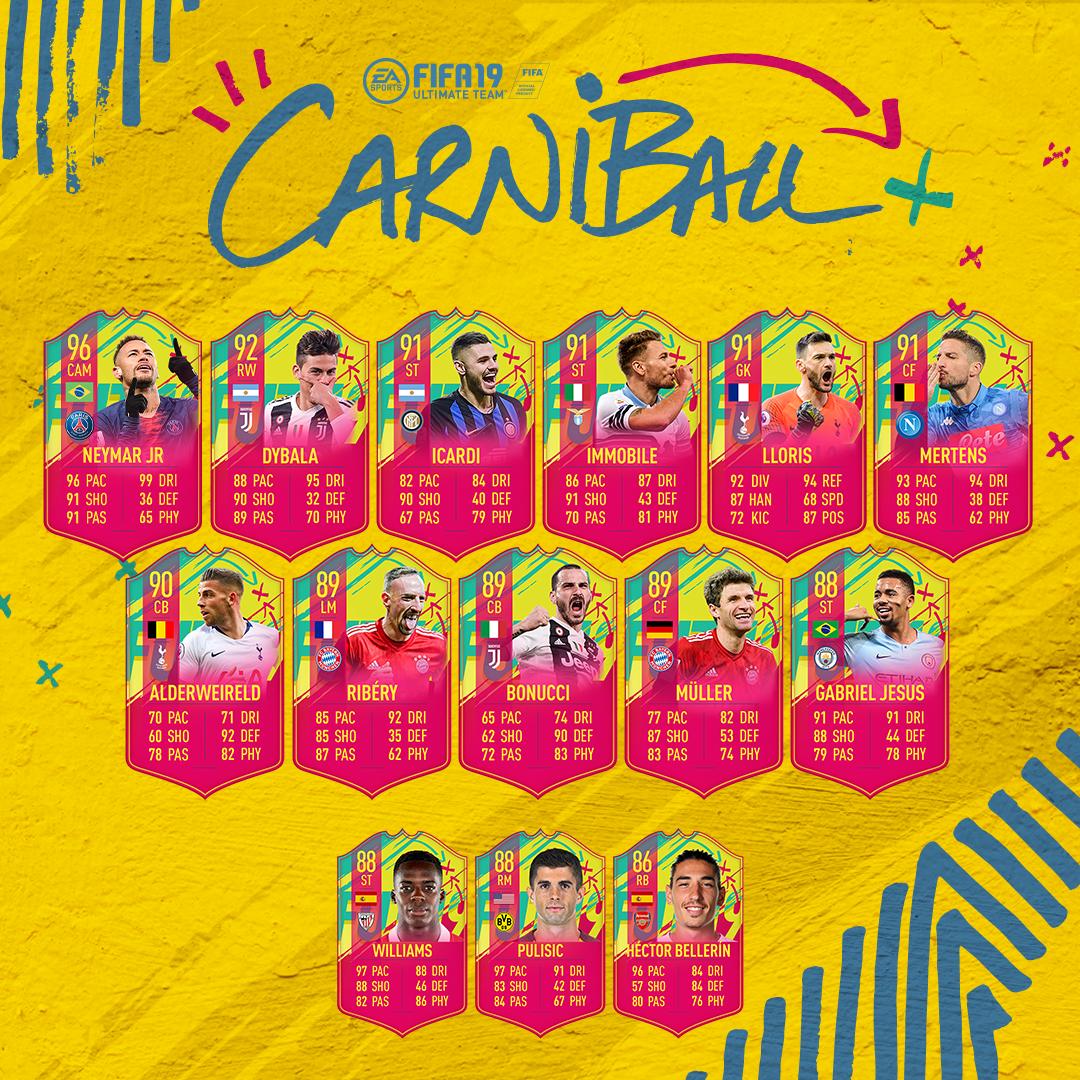 It remains to be seen if all these new FIFA 19 promos will be included in FIFA 20, but it is worth keeping in mind.
---
March 20th – FUT Birthday
EA released throwback ghosts of FIFA Ultimate Team past, including players with position changes (notably ST Bale).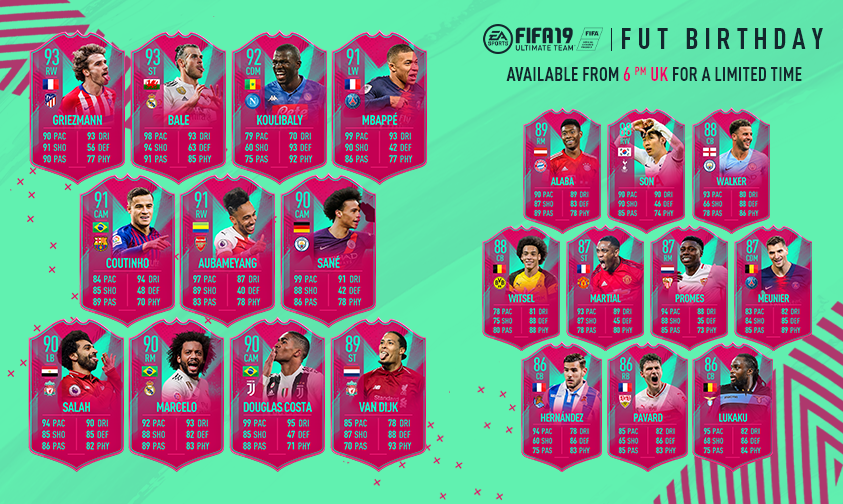 ---
April 17th – TOTKS Release
The best performing players from the Champions League Knockout Stage receive upgrades.
Keep in mind that any time a player receives an upgraded card that goes into packs, their gold card is forced OOP (out of packs), presenting a good investing opportunity. This applies to all of the other promotions as well.
---
May 8th – First TOTS Release
In FIFA 19, EA changed up the schedule a bit in comparison to previous FIFAs; each Friday, they released 2 new TOTS squads, one from a top big league and one from a smaller league.
If they follow this same pattern for FIFA 20, this is a tentative schedule we might see:
May 8th – Community/EFL TOTS
May 15th – BPL/SPL TOTS
May 22nd – Bundesliga/Liga NOS TOTS
May 29th – La Liga/Super Lig TOTS
June 5th – Serie A/Eredivisie TOTS
June 12th – Ligue 1/LATAM TOTS
June 19th – Bundesliga TOTS
June 26th – Ultimate/RoW TOTS
In addition, SBCs are released along with these in which you can get an untradeable version of a TOTS player as a reward. Here was an example of the SBC from the Community TOTS: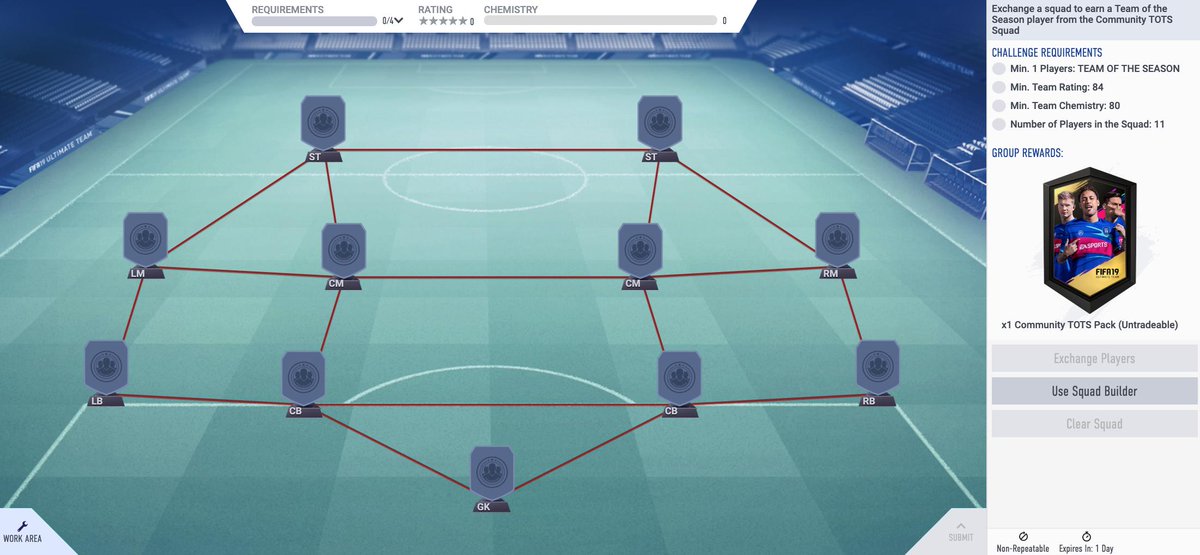 ---
July 1st – FUTTIES
During this event, members of the FIFA community vote for their favorite players of the season by position. Alessandrini, Lozano, and Begovic were among the winners in 2018, and Griezmann, Hazard, and Pogba were among the winners in 2019. An SBC could be completed for an upgraded version of these players.